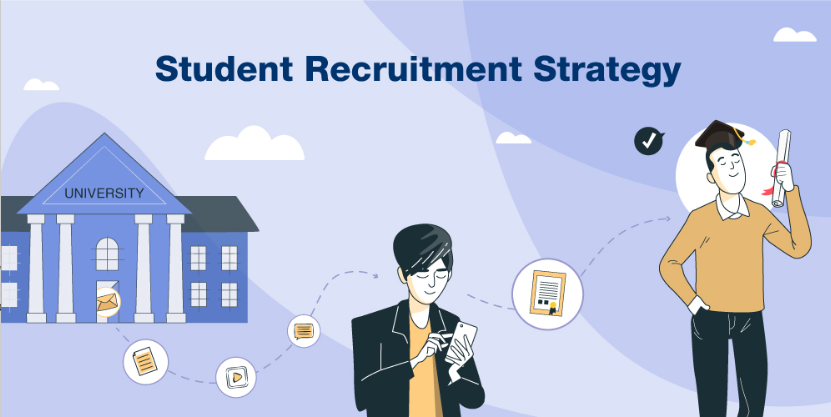 When we talk about student recruitment strategies in 2023, it'd be helpful to remember a simple fact: For a student, choosing a college or course (whether online or remote) is perhaps the first major decision they will make in their life. They may have a few colleges or courses on their shortlist already, but they are still looking for guidance, everywhere.
The last two years brought us a lot of learnings. The Covid-19 pandemic disrupted the entire education system across the globe. It's said, "times are changing and fast." Therefore, a good student recruitment strategy in 2023 needs to acknowledge the changing educational landscape.
Gone are the days when the only way for an interested student to find a suitable college was through traditional media or recommendations. Today we live in the age of information – prospective students have a hundred different ways to find the answers they need. And when they come looking for those answers, it'll help if they encounter you first.
But the digital space is too crowded. To stand out is at once a challenge and a massive opportunity. To overcome this challenge, you need to plan your student recruitment strategies to balance both old tried-and-tested ways and new ones.
If you wish to do that but are unsure how to start, this article will help you take the first steps towards building a balanced student recruitment strategy.
Key Student Recruitment Strategies you should follow
1. Tell your unique campus story
Show your prospective students what you offer and how their lives can be better because of it, instead of telling them.
Make them the central part of your story, learn how they react, and change accordingly.
For instance, the University of Georgetown made a documentary showing the normal lives of their college kids – kids doing laundry, studying before exams, and other generic stuff. The campaign went viral on social media and earned positive publicity for the University.
The lesson to be learned here is, good student-centric stories that your prospects can relate to can work wonders. The thing that attracts students more than anything is familiarity. An inexpensive, relatable, and interesting approach like this is surely the way to go.
This is where another student recruitment strategy can come in handy: Alumni testimonials.
Probably the first thing people take note of about a university is the opinion of former students on it.
So, it is necessary for institutions to highlight encouraging feedback from well-known alumni.
Here's what the University of Georgetown concluded about effects of its Alumni Ambassador Program:
"The results of using our CRM combined with the Alumni Ambassador Program have been significant. The number of cities has now grown to 17. The number of new out-of-state and non-residents students has increased to almost 1,000 or about 18% of the new incoming class. Additional gross revenues have increased to almost $20 million per year."
Which brings us to our second strategy to recruit more students.
2. Engage with them
Think about every personal interaction you look forward to. One thing most common in all of them is that you have met them before (online or offline) and liked them. Research shows this holds for recruitment decisions too.
Research says that students tend to favor institutions that have actively engaged with them before. (Source: Hanover Research)
[Also read: Student engagement strategies]
Students have many questions while looking for prospective colleges or courses, as this experience is new to them.
Smarter universities are proactive and try to capitalize on such opportunities.
Anticipate their questions and anxieties, and be ready with stats, facts, and alumni success stories to help them. Don't stop there. Organize events that are beneficial for them, make it convenient for them to attend these.
Post your stories on social media and encourage your current students to do the same. As we will see later, it's an extremely useful tool for both engaging and interacting with students. Let your candidates know the perks of attending your university.
3. Make Your students feel addressed
The most well-received messages are those which feel personally addressed.
It is far more beneficial for institutions to engage and address actual concerns of college-going public rather than ignoring them. Know what they want, learn what's bothering them, and address them.
Make them feel accepted.
For instance, seeing students worried about Brexit's effects, the University of Sheffield came forward with their #WeAreInternational campaign that targeted and answered key questions and concerns about the after-effects of Brexit. This proved to be an excellent student recruitment strategy for getting International students.
4. Present your best selves
Recruitment professionals essentially act as the face of the institution. They are your first impression and your first introduction to your prospective students
Hire or train your best people for the job. These people must be not only pleasant but also know what interests the prospective students, and why. Additionally, ensure that you use an admissions CRM to get a complete picture of each prospective student for better conversations.
5. Be Authentic
Years ago, when markets crashed in 2008, brands were faced with a challenge: how to change their messaging to placate their customers and continue to increase their revenue.
One brand which stood out was Harley Davidson. They didn't change its brand message, instead, emphasized its brand appeal of Freedom and Rebellion. Astonishingly, the results were positive.
This is the power of authenticity.
As Judy Garland put it, "It's better to be the first-grade version of yourself rather than a second-grade version of someone else."
Here's how sticking to the core principle of authenticity helped the University of Waterloo. The institution came out with an innovative 'live student chat' sessions to answer prospective students' queries like only students could. It seemed both charming and authentic and increased heavily their inflow of students.
6. Have a Better Conversion Strategy
In marketing lingo, Conversion Strategy aims to make the most likely candidates your customers.
In recruitment, it means following up with people who show an interest in your institutions. Even a loss of one such lead could translate to a loss of revenue for the institution. It's essential to be diligent in this regard.
7. Use Social Media
** Social Media is where most college-going students live. Rent-free. And it's free to sign up on it.
A library of research has confirmed that 'real brand benefit occurs when a university uses social media interactively.' To use it to your advantage, you need to be with them there.
A good example of doing this right would be the #LboroFamily trend started by Loughborough university to welcome newcomers. It stayed on top of the trending page on twitter for a while and proved to be massively effective-cost free.
8. Advertise Better
To hit the bull's eye, you need to see the target, and the same holds true for your student recruitment strategy.
You need to figure out the demographic interested in what you offer and focus on them. Pay-per-click (PPC) advertising is a good and relatively cheaper method to do so. It is also essential to have clear, concise, and Informative landing pages ready if PPC is being used.
Landing pages should be designed to win over your prospects. The ad platforms themselves come with reports that tell you how each ad is performing, and then there is Google Analytics that you can use to figure out who is interested, what interested them, and take the next steps accordingly.
In conclusion
The key to building effective student recruitment strategies is realizing that to attract more students, you need to think like them.
Be present in their timeline.
Keep in mind things that have changed astonishingly since you were a student.
Try connecting to them on a personal level by addressing their real and pressing issues.
Doing all this effectively in these digitally driven times is not easy. Fortunately, we have technology on our side too. You could add an Education CRM to your student recruitment strategies, which is built keeping your admissions teams and prospective students in mind. Next, see how you can increase enrollments with a better student recruitment strategy in 2022.
---
Helpful resources: