Any successful business out there has a good sales management system in place. This is a crucial element in any organization and everything needs to function properly.
A sales manager is caught between the client and the salespeople: he needs to make sure the team makes a good profit, while the customer is happy at the same time.
What is Offline Sales Management?
A simple definition of sales management would be the process of creating and coordinating the sales team in order to achieve the sales targets of the company. This will be achieved through a variety of sales strategies and techniques.
So no matter the size of your business or the industry you are in, you should definitely have a good sales manager and a solid strategy in place. A sales management plan can make the difference between a business that is barely surviving or one that is thriving. It should create a strong bond between you (the sales manager), your team, your own manager and the client.
Thanks to the advances in technology, the sales process is so much easier today than it was 10 or 20 years ago. A CRM platform can do wonders for the sales team, but what about the field team management?
If the salesperson physically goes from door to door, then he is part of the field sales team, also known as the field force. They are working really hard as well, traveling a lot no matter the weather conditions. So they too deserve their work to be made easier by a software solution. Doing everything manually can result in a lot of confusion and missed meetings with potential clients.
And this is where a field sales app like LeadSquared comes in very handy.
Features an Offline Sales Tool Should Have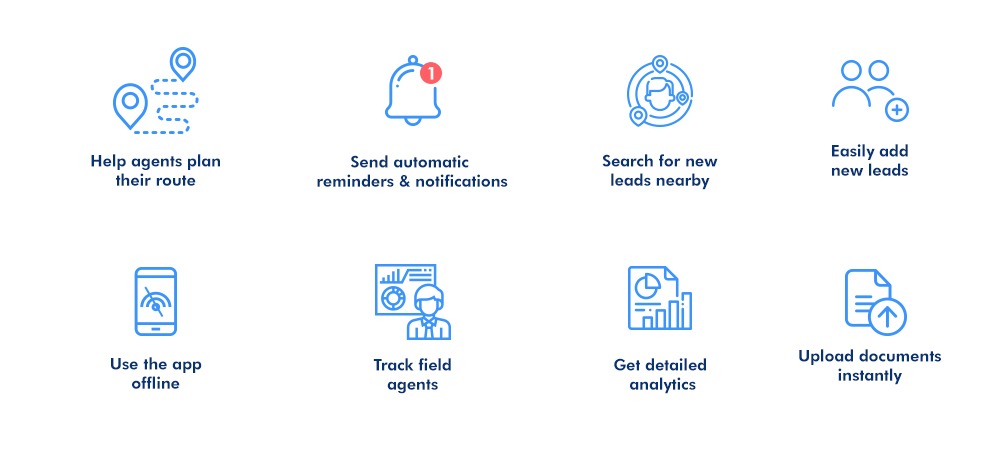 If you decide to invest the company's money into an offline sales tool, then you need to make sure that it's a great one that is worth the investment. So it needs to have all of these features:
Help agents plan their route
Since an agent has plenty of meetings at various hours and in various places around the city, he needs to properly plan everything in order to avoid unnecessary traveling and increased gas costs.
So the app should make his life much easier by carefully planning his route, based on each meeting and its location. The app will show an ideal route that the agent should follow, and will also present the status of each meeting.
Send automatic reminders and notifications
An agent has so many things going on at once that he will definitely forget some important meetings or details. A good offline sales management app should send reminders on a regular basis related to meetings, follow ups and other crucial details.
The app should also notify them when they receive new leads or new tasks. This way they can follow up as soon as possible and increase the chances of closing the deal.
Search for new leads nearby
Sometimes the agent might be done with his work for the day, but there are still hours left in his work schedule. So instead of wasting precious time, a good field sales app should find new leads in his vicinity. The agent will simply have a look at the app and know exactly which leads are nearby in order to contact them.
Easily add new leads
In case the agent meets an unexpected new lead, he should be able to quickly and easily save it into the CRM. If someone calls or sends a message, the phone number should be automatically saved as a potential lead, otherwise, it will get lost among hundreds of other numbers.
Use the app offline
A field agent travels so much, that sometimes he may find himself in a place with no internet connection. But this should not stop a good sales tool, because it should allow agents to log their meetings or to enter new leads.
LeadSquared has the ability to work offline as well. So salespeople can add, edit and update leads on the go without an internet connection.
Track field agents
While most agents are hardworking and serious people, some of them may be slacking and lying about the places they went and the meetings they had. But thanks to a good offline sales management app you will be able to track their route, the number of meetings they had, the check-in and check-out time and other useful details.
Get detailed analytics
Besides being able to see the route and daily activity of an agent, the app should also give you statistics about their performance. Once an agent checks out for the day, a report is being sent to managers with all the meetings they had, the sales they've made and so on. This way you can see exactly how each member of the team is performing and how productive and efficient they are.
You can then discuss with each agent and help them improve based on cold facts. Some of them will improve and become better at the sales process, while others will not keep up the pace and will have to leave the team.
Upload documents instantly
Sometimes agents need to collect certain documents or invoices from the clients, and it may take a few hours or even days until they get back to the office. But this shouldn't be a problem for a good field sales app, which allows agents to upload documents in a matter of seconds and send them to the appropriate person for processing.
This leads to orders being processed faster and clients being more satisfied.
Looking for the perfect offline sales tool that has ALL of the features mentioned above? Then LeadSquared is exactly what you need!
Overall, offline sales management is a key component of any successful business, so make sure to pay close attention to it. And LeadSquared is here to help! Book your 15 minutes online demo today!