What starts your car? The spark plug in the engine.
Similarly, for your business, sales quotas are your sales engine's spark plug.
What is a sales quota?
A sales quota is an achievement benchmark set for sales individuals and teams. This goal is usually time-specific and must be achieved by the end of the month, quarter, or year.
Sales managers set quotas based on historical data and sales forecasting to ensure that the profits and revenue continue to grow for the business. Salespeople receive commissions and incentives for completing their quota in the specified period.
Someone new to sales might confuse sales quotas with sales targets and goals. These terms may sound similar, but they're not. Here's what sets them apart:
| | | | |
| --- | --- | --- | --- |
| | | | |
| | The overall growth of the company determines sales goals. | Sales targets are usually assigned to teams, where the team is responsible for achieving a part of the sales goal. | Sales quotas are well-defined revenue quotas or volume quotas that an individual needs to complete in a specific period. |
| | Higher management (CEOs, founders, Sales VPs) based on growth trajectory and sales forecasting methods. | Sales VPs or Sales Leaders determine the sales target for sales managers based on territory or product lines. | Sales managers assign a sales quota to their sales reps based on past performance and potential. The sales quota is not the same for each rep. |
| | The sales goal is transformed into numbers and broken down into targets. These targets are split across all the sales teams. | Sales managers ensure that the entire team meets the sales target by breaking it down into dynamic sales quotas and providing additional incentives. | The salesperson must ensure that his quota is met within the quarter, otherwise, they lose out on their commissions. |
To put it simply, a sales quota is a salesperson's worst enemy and best friend at the same time. Because it makes their jobs hectic but exciting too.
Managers also find it hard to balance their aspirations and realistic expectations from their teams.
In some cases, even after a lot of meticulous planning, the quota that you've set may not deliver. There are a few signs that you can identify early on, which indicate that it's time for you to reevaluate your team's quota.
Signs that you need to revise your team's sales quota
No one in the team achieved the sales quota: Your sales reps are the same as the last quarter or year, and with consistent sales processes in place, a steep drop in performance for all the sales reps is just impossible. The culprit? Unattainable quotas.

Overperformance and higher commissions sanctioned: On average, sales quota attainment is around 58%. But based on your year-on-year performance, your quotas might be overly simplified if there's a noticeable spike in your quota attainment. And as all the quotas are achieved, the commissions sanctioned to salespeople will be higher too, which may not be profitable for your business.


The high performers are not exceeding their quotas: A sales forecast based on historical data keeps all the contributors in mind. The low-, average- and high-performers have a certain quota to meet, and their potential to exceed it is also accounted for in the forecast. But there's something wrong if the quota is met and the sales reps aren't putting in the effort to overachieve it.


Lack of motivation and high team attrition: Sales quotas aren't meant to scare off your team! If your team looks demotivated or exhausted, you can blame the quotas for putting additional pressure on your team. They might lack the resources or the time to be able to meet such quotas.
These signs can also be a mix of a few other factors—salesperson performance, market conditions, lack of resources, and training—but they're all linked to sales quotas, which are under your control. As a sales leader, you can't wait till something is broken before you fix it. You need to act as soon as you see these signs.
The first step is choosing a sales quota that works for your business model and sales team.
Types of sales quota
The sales quota depends on the type of industry, your business plan, and your projected growth. Here are our top 5 recommendations for sales quota models that you can choose from.
1. Volume Sales Quota
The quota is decided by the number of units a salesperson can sell within the specified period. The sales reps receive their commission when they hit the number of deals they are expected to meet. The volume sales quota can also be broken down for individual sales reps based on territories and different products.
SaaS companies, in particular, don't benefit from volume quota because the deal value must include every monthly installment; and they need to factor in variables like customer lifetime value and longer sales cycles.
"Sales organizations that use incentives with sales volume quotas can motivate salespeople to sell earlier in the business cycle for newer companies, thus improving efficiency."

Chris Murphy, of Murphy Consulting Company
Example:
A car salesperson must sell at least ten cars this quarter. His commission per car sold is 10% and $10,000 extra on meeting his quota. For an average car value of $40,000, the salesperson will make $50,000 ((10 cars * 40,000 * 10%) + 10,000) in commission.

Suitable for:
Fixed price products with limited room for negotiation
Products with short sales cycles
Businesses that want to improve market penetration
2. Revenue Quota
In the revenue quota model, the quota is met when the salesperson hits a particular quarterly revenue benchmark. It doesn't depend on the number of deals or length of sales cycles; instead it's similar to a book of business.
The revenue quota works all right for product-type businesses where the sales cycle is standard, and the product price is fixed. However, it prevents salespersons from offering a better price or a discount while closing. And this may lead to missed opportunities. This quota works really well for service and subscription types of businesses (for example, Insurance, SAAS, and OTT platforms) where the relationship with the client is long-term, and their monthly/yearly pay-out contributes to the salesperson's Monthly Recurring Revenue (MRR) or Annual Recurring Revenue (ARR).
This model also motivates salespeople to utilize all the options to upsell and cross-sell services and products, increasing the deal size. So, salespeople find a balance between discounts, upselling, and the number of deals to meet this quota which increases profitability for your business.
Example:
A salesperson who has generated an MRR of $20,000 cracks two deals with an MRR of $5,000 and $4,500, respectively. Which brings up his total to $29,500 ($20,000 + $5,000 + $4,500). If the MRR quota for this salesperson was $25,000, these two deals have helped him exceed it, and he will receive the commission for it.
Suitable for:
Businesses with multiple product lines that allow salespeople to cross-sell products.
Companies in the maturity phase, where the aim is to maintain market share and increase profitability.
Products/ services purchased recurrently
3. Activity Quota
The saying "It's about the journey, not the destination" is very apt for sales because you can't close too many deals if you don't abide by the sales process. Many stages come before closing a deal—storing lead information, notes from a meeting, follow-ups, and sharing pricing—are all important to close a deal successfully.
But in the other quota models, a salesperson's efforts are only validated once the sale is completed. The activity quota takes the other tasks into account to set quotas. It helps standardize the sales process and decrease the length of the sales cycle.
This model also works great for training new sales employees and maintaining CRM hygiene. It also helps track the progress of SDRs and BDRs as they support sales reps by taking calls and leading initial demonstration sessions.
Before implementing this quota, you must have a sales management tool like a Sales CRM that helps you track and review all the activities.
Example:
A salesperson sends 200 emails and makes 500 calls in a month. They also update the lead details on the CRM, follow up on contacts, and reach out to 50 people on social media monthly to meet their activity quota.
Suitable for:
Companies that have a well-defined sales process
Sales processes that focus on outbound sales
Sales roles that are closely aligned to lead generation, like SDRs and BDRs
Computer software, retail banking, and insurance industries
4. Profit Quota
The profit quota plan is like revenue quota in terms of setting the goals, but it's a step up. The profit quota tracks and reports the profit benchmark that each salesperson must meet.
To calculate the gross profit quota, the cost to sell and other expenses—like showroom rent, telephone usage, advertising costs, discounts offered, etc.— and the cost of goods are subtracted from the revenue. By doing so, you can improve budgeting and overall profitability. Gross profits are a better way to represent the business' growth trajectory.
The only drawback here is that it complicates quota management because the additional variable expenses need to be tracked too. But it's nothing that an effective CRM can't handle.
Example:
For a deal worth $10,000, where the cost of goods is $4,000 and the overall selling expense is $2,000, the gross profit will be $4,000 ($10,000 – ($4,000+$2,000)). A salesperson must make five such deals to reach his monthly quota of $20,000.
Suitable for:
5. Combination Quota
Setting a single sales quota might be easy to set and track, but it is bound to get monotonous for your teams. Combining 2-3 plans to create an intensive quota for your team keeps them on their toes. You can also use gamification to make it more interesting.
Each quota has its setbacks but pairing the ones that complement each other balances them out. For example, the profit model encourages higher value deals but can be met without contacting too many customers. Whereas the activity quota ensures that CRM hygiene is maintained, and salespeople log their talk time and the number of emails sent. Combining these two quotas results in a higher volume of profitable deals while maintaining a healthy sales pipeline. You help your salespeople develop and hone their sales skills by choosing a combination quota.
"To set combination sales quotas, you can create a matrix with a mix of KPIs—the number of deals closed, revenue added, and new logos—and KRAs—pipeline health, CRM hygiene, calls made. These quotas ensure that the sales process is smooth and predictable in the long run."

Venugopal Rajagopalan, Vice President – Business Development, LeadSquared
The combination can also be in ways to manage expansions in different territories or set targets around various product lines. The best part about combination quotas is that the opportunities to experiment are endless, as long as all the data is in place with a sales management tool.
Example:
A salesperson's monthly quota requires them to make 200 calls, close five deals, and generate $5000 in profits as a part of their combination quota.
Suitable for:
Most businesses that intend to grow sustainably
Well-defined sales process
Companies that use a CRM to track different kinds of metrics
So far, we've understood when and why you need to improve your sales quotas; and you have also chosen a suitable model. What's next? Let's figure out how you can implement it for your team.
How to implement sales quotas?
1. Knowing where you stand
On a business roadmap, quotas are the milestones!
Before you start, establish a baseline from which your sales team will work upward.
A bottom-up approach works best for more businesses as it helps managers evaluate the past sales performance, potential for improvement, and the number of years of experience while setting quotas for their teams. Once managers and team leads know where the teams stand, they consider the growth objectives and economic and market conditions to forecast sales. Setting sales quotas without an accurate forecast might lead to gaps between expectations and the results that your team can deliver.
Here's an in-depth guide to create accurate sales forecasts for your team: The Ultimate Guide to Sales Forecasting: Methods, Challenges, and Tools
Once you know your current potential and have the sales goals in place, you can begin to back-calculate the same to break them down to a team-based monthly and weekly target.
You can use this easy formula to calculate the baseline sales quota:
Average number of deals closed per month x Average deal value = Baseline sales quota
For example: If you're selling a notebook that costs $2 and you sell 1,500 such notebooks. The baseline sales quota will be $3,000 ($2 x 1,500). If the projected growth for the next quarter is 20%, the sales quota will be $3,600 ($3,000 + (20% x $3,000)).
2. Mapping out a plan for success
Sales quotas impact your business' growth and commissions for your sales team. Over 64% of organizations find it challenging to set a quota that aligns with these factors.
Leaders from sales-driven organizations believe that one quota doesn't fit all.
"Quotas must be planned based on each individual's role, sales potential, previous performance, and the kind of accounts that they handle. The quotas vary across team members and hierarchies, which can be challenging if you're not targeting the right sales metrics."

Venugopal Rajagopalan, Vice President – Business Development, LeadSquared
Businesses across different territories must also keep that specific territory's market penetration and adaptability in mind. This can help:
1. Retrieve around 10% of lost opportunities in your annual sales
2. Increase quota attainment by 14% for territory-specific opportunities
The top-down approach is when the CEOs, founders, and sales managers set the quota based on aspirational growth plans. This approach can work for start-ups or companies in its early stages if they lack sales data and have a highly charged sales team. But in the long run, this plan may not be sustainable for employee satisfaction.
3. Tracking quota-related metrics
There's something that's more important than setting quotas. That's ensuring that your team can meet them. Every quota model has a couple of sales metrics associated with it, and if it's a combination quota, these metrics increase in number. Without a comprehensive tool like a CRM, tracking, analyzing, and reporting these metrics becomes challenging.
Platforms like LeadSquared's ACE Goals allow sales managers to track sales performance. The managers access how far along their sales reps are towards meeting the quota. Sales leaders need visibility across the sales pipeline so that if there's a delay in completing the quota, they can introduce SPIFF incentives to move the process along. Salespeople who can see their quotas and goals vs. achievements clearly and updated in real-time feel much more motivated to hit the 100% mark.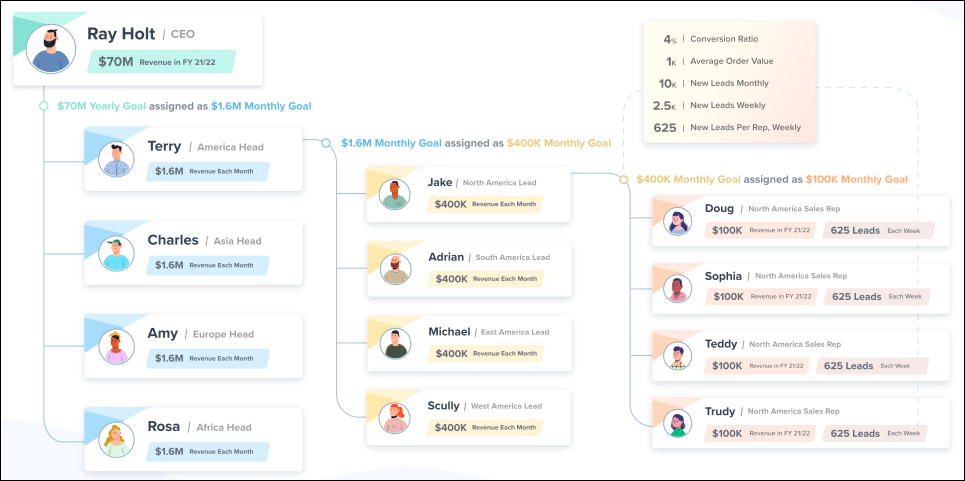 "We were able to configure all the required targets for our team like the number of leads, activities completed, conversion rates, targets met, etc. Being able to set up different kinds of targets makes ACE Goals a very critical feature for us now."

Rakshpal Singh Shekhawat, Sales Leader, MakeMyTrip
Sales is a volatile profession where the attrition is around 35%. And rigid quotas without any support from the manager's end are one of the factors that lead to attrition. It's important to communicate your expectations to your sales reps and create a space for them to express their problems and reservations. Based on these problems, you can support your sales staff in a couple of ways.
Tips to achieve sales quota
1. Training
The salespeople need to be trained to understand the product, the sales process and the sales tool, such as a CRM. Consistent coaching can increase your quota attainment to 73%, much higher than the average. The training can either be a course, in-person, as a buddy program or by sharing resources with your team. When we surveyed 3,061 CRM customers, we found more than 50% prefer live training over self-paced training.
2. Sales Enablement
Sales enablement ensures that your teams have the right resources and tools to sell effectively. Methods under sales enablement include content creation and adopting sales automation tools like LeadSquared that save up to 36% of your salesperson's time.
3. Positive motivation
Create a positive working environment for salespeople so that they can work better. As a manager or team leader, you can motivate your team by valuing their work, celebrating every small win, and organizing team-building activities.
"Something as simple as a pizza party brings the team together. Sales is competitive, which can drive team members apart, but we're all in the same boat, so being supportive can help every individual perform better."

Arjun Mathur, Associate Director at Emeritus
Setting quotas can be scary, both for the managers while setting it and for the salespeople when they execute them. But they are a necessary function of any sales process. Adopting a suitable quota model and sales performance management tool simplifies and speeds up this process.
If you're looking for a tool to set, track, and manage sales quotas all on the same platform, you should give LeadSquared a shot!
FAQs
What are the methods to calculate sales quota?
A business can calculate sales quotas using two methods—the bottom-up or the top-down approach. While each of these methods has its own pros and cons, the bottom-up approach is favorable as it sets targets based on historical data of the sales achievements and sets projected targets. Whereas the top-down approach begins by setting an aspirational goal and breaking it down into sales quotas. The top-down approach generally works for fast-growing businesses and start-ups.
Why is sales quota important?
A sales quota can be the guiding force for your team and it's important because it brings clarity to your teams efforts. Along with structuring daily activities and tasks, sales quotas motivate your sales teams to improve their performance.
What are the types of sales quotas?
The following types of sales quotas are most-effective for businesses:
1. Volume Sales Quota
2. Revenue Quota
3. Activity Quota
4. Profit Quota
5. Combination Quota