Sales goals are important.
Hit your goals, and you're more likely to grow.
Fail to meet your sales goals though, and growth plateaus.
When we asked 138 sales professionals from different business verticals about their yearly revenue targets they achieved by September 2021, the response was alarming.
More than 60% of sales reps weren't even close to achieving their yearly sales quota.
A HubSpot survey reported similar results as nearly 40% of companies stated that they failed to achieve their sales goals in 2020.
Shocked? We were.
And it left us wondering if there's a way to help people achieve their sales goals.
After all, we're a sales execution platform.
Our goal is to help our customers achieve their sales goals.
So, we decided to put together a easy to follow action plan for companies to achieve their sales goals.
Here we go!
What are sales goals?
Sales goals are the objectives a company or a team wants to achieve in a given time. It gives sales teams a roadmap of what they need to do to help their company achieve specific targets.
There can be different types of sales goals. For example, revenue goals, customer acquisition goals, customer retention goals, and more. For example,
Increase sales revenue by 15% in the next quarter.
$15,000 in sales revenue per representative per month.
Increase customer acquisition rate by 10%.
Reduce customer defection rate by 3% in the next year.
Reduce the churn rate to 5%.
ACV of $180k per sales rep in 2024.
Make 40 cold calls per day.
Reduce response time to a maximum of 4 minutes.
In the subsequent sections, we will discuss sales goals examples in detail. But first, let's look at why it is necessary to set up goals.
Why create sales goals?
Simply put, those who have goals are 10 times more successful than those without them.
And those who have written goals are 3 times more successful than those with unwritten goals.
Interesting, right?
But does this happen in reality?
I'm worried; it doesn't.
Whether it's a personal or professional goal, we fail because we don't know what we're doing and why.
Let's look at it from an organization's perspective.
Many individuals contribute to the organization's goals.
For example, to achieve $$ revenue goals of a company, every team member is assigned a target, and they work towards achieving them.
Seems pretty straightforward, isn't it?
But it's not.
In reality, you'll find a lot of moving parts between planning and execution.
Let's say you've set sales goals for the coming year.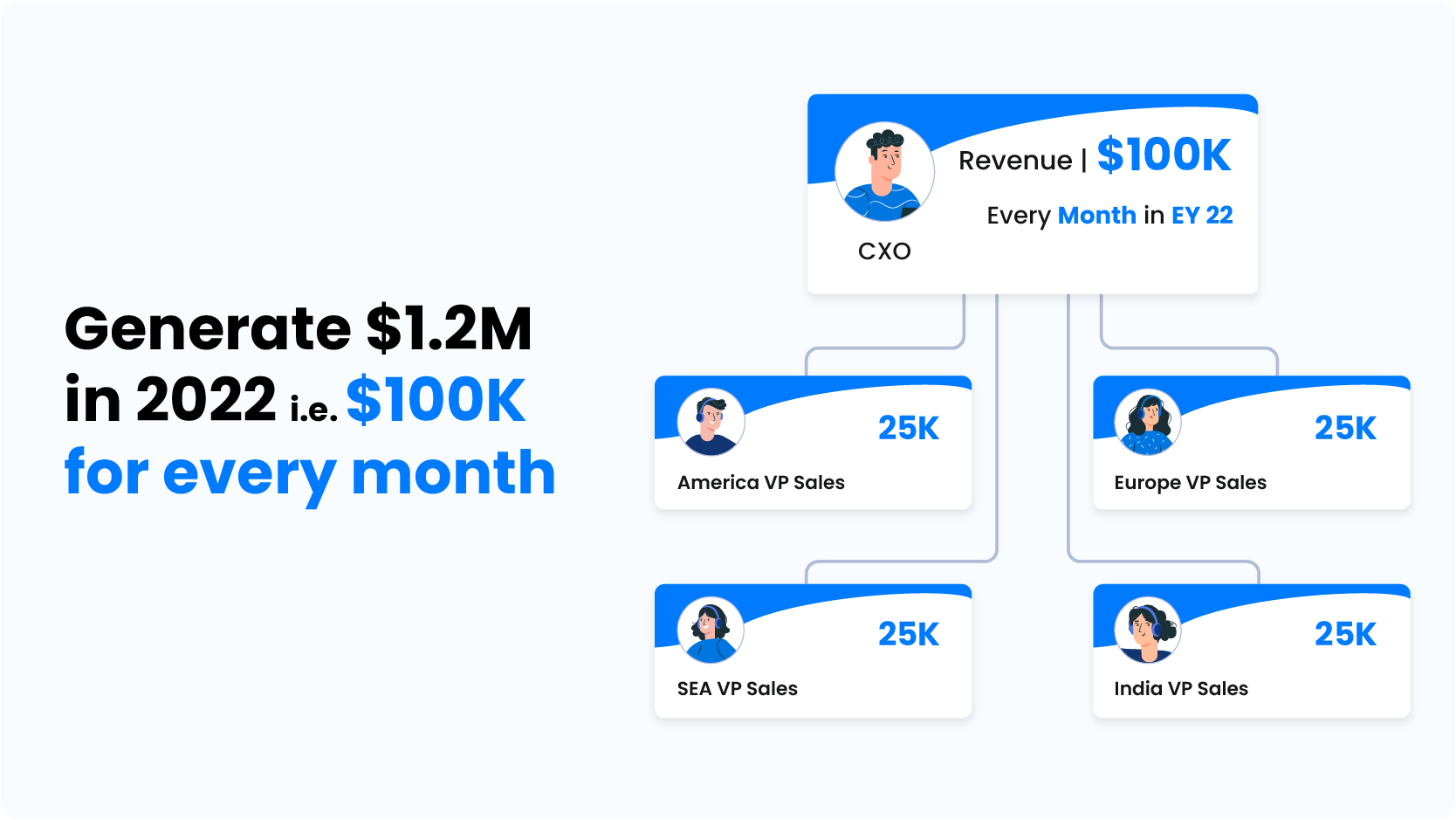 You have also set up your team and assigned them tasks. But, in the middle of the quarter, one of your team members decides to switch. In that case, if you don't take appropriate action in time, the goal you've set will be in jeopardy.
That's why setting up sales goals, having an action plan and tracking progress is important.
But not just any goals. The goals you set for your team must be SMART.
Let's discuss the components of a SMART sales goal in detail.
How to create SMART sales goals
In the context of sales goals, SMART refers to:
Specific: The goals should clearly define the expectations
Measurable: The metrics and criteria you define for the goals should be measurable
Attainable: The goals should be challenging yet attainable
Relevant: Makes sense for your business and team
Time-bound: Should have a timeline to accomplish them
Here's an example of a SMART sales goal.
Specific: Your goal is to acquire 600 customers by the end of March 2024. It's specific and sets a target.
Measurable: You know that you'll have to make 40 calls per day (assuming 1 in 4 prospects you call converts).
So, 10 customers per day for 60 working days = 600 customers in 3 months.
Note, you can easily measure the number of calls made per day.
Attainable: Making 40 calls in a day is doable. Setting a target of 100 calls is unrealistic.
Relevant: It should fit with the mission of your company. In this case, it makes sense if your sales process depends on cold calling.
Time-bound: 40 calls per day until March 2024 gives a clear timeline to achieve the goal.
Now follow these steps to define and execute your sales goals.
3 Steps to create successful sales goals
Let's break it down into three main steps:
Define goals
Create an action plan
Track performance
Define your goals
You'll need to define (set) goals:
1. To track metrics: You must set goals on metrics that are important for your business growth. For example, lead generated, the number of calls or meetings scheduled, the number of deals closed, etc.
2. Across the organization's hierarchy: In an organization, team members will have different roles and KRAs. So, you must set goals and KPIs for individuals as well. For example, revenue targets may not be relevant to the graphic designer.
3. For various cycles: Different KPIs have different timelines. For example, revenue goals are measured on a monthly, quarterly, or yearly basis. Whereas lead generation goals are measured on a daily/weekly basis.
The goals you define should be fact-based. It shouldn't be based on whims.
You should evaluate your previous year's performance, average order value, conversion rate, sales cycle, resources, etc., and accordingly set a realistic goal.
Note that a goal without an action plan is just another new year resolution – unattended and unaccomplished.
So, the next step is to put your plan into action.
Create an action plan
An action plan is a well-defined description of goals. It describes the steps that need to be carried out to achieve the goal within a specified time.
For example, if your goal is to bring $100k in revenues next year, your action plan should look like this:
1. Form a team for different aspects of your sales process, such as:
2. Define KPIs for teams and individuals
Assign goals to the individuals.
Equip your teams with the required tools and technology to help them in their day-to-day tasks.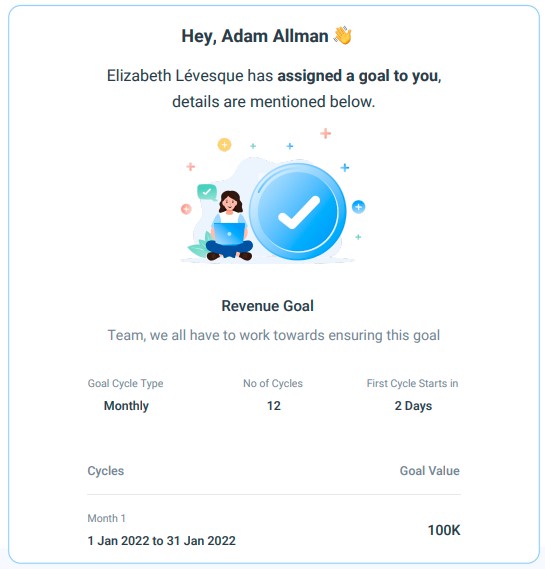 Once the team members are on the same page, know their goals, and are ready to perform, the next thing you must do is track the progress.
Track performance
As we said, there are several moving parts between planning and execution. Sometimes you might fall short of resources, while other times, external factors like competition, socio-political or environmental conditions might disrupt your business.
That's why you need to keep a tab on the sales metrics and whether or not you're on track to achieve your goals.
Now, if you plan to do this manually, you'll end up deploying more resources in data crunching.
Instead, you can use CRM software to manage your leads, sales reps, and more in one place. With this, you can also generate automated reports and dashboards to keep an eye on the achievements.
So, now you know what's happening in your team. How far you are from achieving your sales goals. If the destination seems hazy, the obvious step you must take is – improve.
Improve performance
Keeping a tab on sales KPIs will help you spot underachievers and overachievers. While the strategies of star performers can inspire others, training and support can help underachievers.
The following are the ways to improve your team members' performances.
Nudges: Motivate users at the right time using relevant nudges via web notifications, mobile, and emails.
Gamification: Inspire your teams to perform more, break the records using leaderboards, incentives (e.g., SPIFF), and more.
So, now you know how to create and execute goals. Let's look at the sales goals examples you can use for your business.
17 SMART sales goals examples
1. Revenue
Revenue goals are the targets to increase the gross or net profits of the company. They reflect the cash flow a business needs to generate each year to cover all expenses while making profits. Revenue goals can be set for a team, region, or product line for a specific timeline.
Here are some examples.
Increase sales revenue by 15% in the next quarter.
$15,000 in sales revenue for each representative per month.
Generate $1.2M in 2024 from Alaska.
2. Unit sales
This sales goal applies to all businesses that sell physical products or services. You can set a quota for your sales team to achieve within a timeline.
For example, you can set a sales goal of 100 units per week for your sales reps.
3. Customer acquisition
Companies drive revenues from both – new and existing customers. Customer acquisition as a sales goal focuses solely on acquiring (gaining) new customers.
Examples:
Increase customer acquisition rate by 10% per quarter.
Acquire 100k new customers from Florida.
4. Lower the customer acquisition cost
Customer acquisition cost (CAC) is the total cost you incur to acquire a customer. When your CAC is lower, you can make more profit from a sale.
CAC involves all costs like-
To calculate CAC, divide the total cost of acquiring customers by the number of customers acquired.
That is, if you spend $100 to acquire 100 customers in a year, your CAC is $1.
You can create sales goals to lower the CAC.
Example:
Reduce the customer acquisition cost to 80% by next quarter.
You can also refer to the following industry benchmarks for the CAC.
5. Market share
Usually, large enterprises and aggressive start-ups target market share as a sales goal. For instance, you must have heard of Amazon's relentless strategies to capture market share across several segments.
6. Customer retention
Customer retention refers to the activities to reduce customer defections.
In contrast, customer defection rate is the number of customers who cancel their subscription or stop making regular purchases. The lower the defection rate, the higher is your customer retention and spend.
An example of this goal could be:
Reduce customer defection rate by 3% in the next year.
7. Improve NPS
NPS or Net Promoter Score is an important sales KPI to boost customer loyalty and retention.
It indicates customer satisfaction and the likelihood of customers to recommend your products or services to others.
Note that assigning absolute number targets for NPS may lead to score-begging. So, instead, assign relative targets to your reps to understand if you're actually improving the service quality or not.
8. Reduce customer churn
Customer churn is the number of customers who stopped using your company's product or service during a certain period.
Churn is unavoidable.
However, if your churn rate is above the industry average, you should be alarmed.
You must find out why your customers churn and ways to make them stay.
Anything like competitor pricing, new market entrants, outdated product features, poor customer service, etc., could lead to churn. But sustainable brands ensure a balance between customer acquisition and retention.
For example, you can set goals to reduce the churn rate to 5%.
9. Customer lifetime value
A customer lifetime value (CLV) is a long-term prediction of the future values of your customers' interactions.
It is an important business metric that measures how much a business can earn from the average customer over the course of the relationship.
Increasing CLV as a sales goal looks something like this:
Increase the average customer lifetime value from $80k to $100k.
Increase the average customer relationship period from 3 years to 5 years.
10. Annual contract value
Annual contract value or ACV is the average annual revenue generated from each customer contract.
Businesses that depend on subscriptions or rentals can use the annual contract value to set targets and commissions.
You can multiply the monthly target of a rep in his annual contract value to get the final value.
So, if a rep's monthly target is $15,000, then annual contract value is $15,000 x 12 = $1,80,000. You can also include one-time sales in the yearly contract value.
Examples:
ACV of $180k per sales rep in 2024.
ACV of $6 million from North America in 2024.
11. Lead generation goals/prospecting
Qualified leads are more likely to convert. The more qualified leads you get, the more deals you can close. You can set a target for your sales team to generate, say, 50 qualified leads per month with at least 75% on the qualification score.
12. Sales cycle goals
A sales cycle refers to the time it takes to convert a lead into a customer. Companies that have shorter sales cycles sell more and earn more revenues.
Let's say your sales cycle is 6 weeks. You can set a goal to cut it down to 4.5 weeks.
Note that some industries incur longer sales cycles. So be aware of the optimum sales cycle for your business to create a sales cycle goal.
13. Sales activities: email marketing
You can turn the activities of your reps or sales team into targets. These are applicable when you set goals for people down the organizational hierarchy.
Here are some examples of email marketing goals.
Increase demo sign-ups from email campaigns by 20%.
Hit 5% email open rate target.
For this, you'll need to track email KPIs closely.
You can either use email marketing software or CRM software like LeadSquared that supports marketing campaigns.
The following screenshot illustrates how LeadSquared CRM helps you keep an eye on your email metrics and devise strategies to improve them.
14. Sales activities: cold calling
Similar to the above sales goals example, you can give cold calling targets to your inside sales teams. For example,
Make 40 cold calls per day.
Increase cold calling by 20 leads per day.
You can also use LeadSquared CRM software to manage contacts and cold calling activities on a single platform.
15. Sales activities: speed-to-lead
Speed-to-lead, or the average lead response time, is the average time it takes for a sales rep to respond to an inbound lead.
It is advised to contact a lead within 5 minutes of the inquiry. Not doing so decreases the odds of qualifying the lead by 80%.
So, improving lead response time or increasing the speed-to-lead can be a sales goal for an individual. Here are some examples.
Reduce response time to a maximum of 4 minutes.
Increase speed-to-lead by 50%
If you're wondering if this is a call-center metric, you're wrong.
Speed-to-lead as a sales goal applies to all sales and customer service departments.
16. Sales activities: meetings/demos
Again, this is an individual sales goal, generally given to the SDR (Sales Development Representatives) teams.
The aim is to build a sales pipeline for the account executives. For example, you can give your reps a target to schedule 20 meetings per week.
17. Business expansion goals
Business expansion goals are similar to the revenue and market share goals but with a strong focus on the region. For example,
Drive $6 million ARR from the United States in 2024.
Capture 40% consumer durable market share in Texas by 2025.
So, these were some of the sales goals examples that you can set for your teams.
However, it's essential to use software to track sales goals and measure every individual's contribution towards achieving those goals.
I'd like to share a story of how LeadSquared helped a leading travel booking company track its sales performances.
How LeadSquared helped a leading travel company plan and act on sales goals
One of our customers in the travel segment was facing challenges in creating sales goals and monitoring them. The problem became serious when they started expanding across geographics.
Some of the pressing challenges were:
Managing employees and tracking their progress/work log on excel sheets was ineffective
Data loss due to multiple sheets and inconsistent data flow across systems.
Monitoring achievements on the whiteboard was just not right.
The management wasn't able to track individual and team performances.
"Keeping track of our agents' conversations, monitoring our teams, and evaluation of productivity became tedious as the operations scaled," says the company's Inside Sales Head.
After implementing LeadSquared, the management was able to set clear objectives for the team. Monitoring them regularly helped them improve critical business metrics. The main functional areas that contributed to increased sales efficiency are:
Setting up talk time targets
Setting up meeting activity targets
Tracking lead activities
With LeadSquared, they were able to:
| | | |
| --- | --- | --- |
| Define goals | Measure | Improve performance |
| For various sales cycles | Performances | Through nudges |
| To track sales KPIs | Lead and lag metrics | By tracking near-real-time reports |
| Across the organization's hierarchy | | |
"We were able to configure all the required targets for our team like how many leads we are getting, what actioning has been done, what is conversion rate, how many leads have been closed by the team w.r.t their target. Being able to configure all different kinds of targets makes goals a very critical feature for us now," says the company's spokesperson.
In conclusion
While setting up sales goals gives clarity and direction to organizational success, tracking progress ensures that you have everything you need to achieve your goals.
If you have a plan but are not able to track progress, it's high time to invest in a tool that helps you just do that. And while you do, do check out LeadSquared sales performance suite. LeadSquared has helped leading organizations like BYJU'S, Dunzo, and many more achieve and exceed their sales goals. To see it in action,