The majority of today's incoming college students are members of Generation Z, a.k.a. "zoomers." As digital natives born between the mid-1990s and early 2010s, Gen Z students have high expectations of your schools' technical savvy and specific preferences for their college experience.
For example, compared to millennials, zoomers prefer more career-based programs and less traditional degree paths.
50% of teens reported being open to something other than a four-year college—
an attitude only intensified by the COVID-19 pandemic, according to a recent survey by ECMC Group.
Enrollment continues dropping
As students' expectations have changed, enrollment rates have too. Even before the COVID-19 pandemic, student enrollment was declining, down nearly 2 million since 2011.
In 2020, enrollments plummeted 3.5 percent, a rate seven times higher than the previous year, according to National Student Clearinghouse Research Center.
In order to survive, your college must adapt to shifting expectations. What should you know about Gen Z in higher education? Let's look at Gen Z's expectations and their impact on higher education.
1. Nontraditional education is in
In the report "Question the Quo," ECMC Group, a nonprofit focused on student success, found:
70% of high schoolers want to follow their own educational path.
Less than one-quarter said a four-year college is the only path to a decent job.
This study shows that today's students are incredibly resilient and resolute in their desire to forge their own path when it comes to education. It also illustrates that they have a keen understanding of the need for skills-based training and lifelong learning, which are integral to succeeding now and in the future.

Jeremy Wheaton, president and CEO, ECMC Group
Alternative educational options include:
Career and technical education
Apprenticeships
Entrepreneurship
Many zoomers are also interested in taking a staggered approach to education based on lifelong learning. Continuing education could better position them for jobs in a digital economy—and avoid the high costs of a traditional four-year degree.
2. Career-based programs take precedence
Gen Z is interested in programs focused on skills development and career preparation. 44% of high school students say landing a solid job is a top priority, with 50% citing future costs as a concern, according to ECMC Group.
Zoomers have watched student debt skyrocket for millennials and don't want the same strapping financial burden. Students want proof a degree will pay off.
Research shows a particular interest in science, technology, engineering, and math (STEM) programs, including:
Engineering
Nursing
Computer science
Analytics
Collegis Education's 2020 program analysis shows a stark increase in undergraduates receiving STEM-focused degrees. For example, between 2014 and 2018, the number of computer science bachelor's degrees awarded increased by 14,000.
3. Finances are the top concern
Gen Z's aversion to student loans cannot be overstated.
While millennials used traditional 4-year degrees to explore interests, Gen Z is hesitant to commit without knowing what they want to study. Students are taking time to evaluate needs and interests through other means, often taking gap years.
4. Self-education is preferred
As digital natives, zoomers are characteristically self-reliant and prefer to self-educate. Early on, they learned how to find the information needed to make decisions.
In higher education, this translates to:
A thirst for hands-on learning
A desire for self-directed education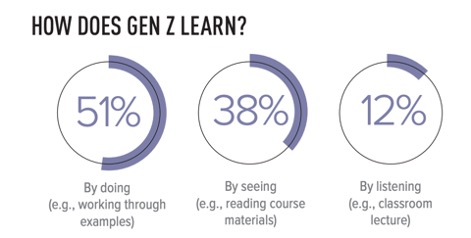 Over half of Gen Z survey respondents indicated a strong preference for learning by doing. Students also prefer conducting their own research and examining results by collaborating with classmates, according to a recent report by Barnes & Noble College.
5. Tech-driven experiences are essential
As the first true digital natives to attend college, Gen Z expects technology to play an instrumental role in educational experiences. Virtual tools guide nearly every aspect of their lives, including learning.
In "Getting to Know Gen Z," Barnes & Noble College says Gen Z craves interactive, hands-on learning experiences driven by technology. Favored ed-tech tools include:
Smartboards
DIYL (Do-It-Yourself Learning)
Online videos
Game-based learning systems
Being hands-on or using interactive devices is the best way for me to learn. Technology is important to use because it keeps you current with our daily lives

Teen surveyed for Getting to Know Gen Z
6. Diversity and inclusion are a non-negotiable
Students starting college today are more racially and ethnically diverse than any previous generation, with only 52 percent identifying as white. They're also on track to become the most well-educated generation, where social issues such as racial equity, climate change, and same-sex marriage are front-in-center, according to Pew Research Center.
Higher education institutions must take actionable steps to support diversity and inclusion. Students want to see initiatives and departments dedicated to these values demonstrating active progress.
7. Mental health services are a priority
Gen Z is focused on mental health more intently than other generations. A recent survey found 70% of teens see anxiety and depression as a major problem among peers, which has only worsened with COVID-19.
In response, many colleges have expanded their services for students battling anxiety, depression, and other mental health issues. Today's colleges are expected to provide these support services as part of students' educational offerings.
8. Social media engagement continues to grow—especially on Instagram
Students are increasingly willing to engage with colleges on social media, especially Instagram. EAB's 2019 Recruiting the Digital Native survey, which analyzed attitudes and preferences of 9,000+ high schoolers, found:
86 percent believe "every college should have a social media presence," a nearly 10 percent increase from 2017.
Over 25 percent discovered a school via social media, compared to only 19 percent in 2017.
Instagram is the preferred platform. Facebook usage continues to decline.
Underrepresented and first-generation students used social media to research colleges more than other demographics.
First-gen students were about 60% more likely to indicate they discovered a college on social media than their non-first-generation counterparts.
9. Prospective students like web chats and email
Many universities are incorporating live chat functions on their websites, allowing for immediate engagement with students and quick problem-solving. Over half of EAB survey respondents dubbed web chats as "extremely or very useful."
According to the EAB, email remains students' preferred communication method, with 80% checking email at least once a day. Gen Z tends to prefer less intrusive communication methods while searching for colleges, especially early on.
10. Off-campus living is becoming more of a norm
Attending a traditional 4-year college doesn't necessarily mean living on campus. One study found almost 20 percent of Gen Z students planned to live at home and commute to campus.
Staying home is another cost-saving strategy—but it also indicates an important shift in values. One report from Chronicle of Higher Education indicates today's students want fewer comforts, like plush dorm rooms or rec centers, and more supports, such as guided tutoring groups with their peers.
They may be fine with simpler housing, while benefiting from more flexible spaces that promote interaction with classmates and professors…which raises the stakes for personal development as part of the college experience.

The New Generation of Students — The Chronicle of Higher Education
Like previous generations, Gen Z is a unique cohort with its own set of values and needs. To survive, higher education institutions must adapt to fulfill these expectations.
---