The difficulty of owning a home has increased due to recent economic changes, making it challenging to obtain loans directly from banks. This has led to more Australians turning to mortgage brokers, who act as mediators with lending institutions to secure home loans.
The mortgage broker industry in Australia has grown significantly, and the industry reached its peak market share of 68% in 2022, representing an increase of 81.97% from 2020.
Selecting the best mortgage broker is essential since skilled brokers:

1. Ultimately save you time and money.
2. Offer you vital advice from their experience in the mortgage sector.
3. Negotiate better lending policies, lower interest rates, and assist you to avoid any hidden fees or penalties because they have access to a variety of lenders.
4. Help you with the application process and file the paperwork, which is especially useful for first-time homeowners or people who are unfamiliar with the mortgage procedure.
In the end, dealing with the best mortgage broker can assist you in making confident financial decisions and achieving your homeownership goals.
Top 15 Mortgage Brokers in Australia
1. Aussie Home Loans
Website: https://www.aussie.com.au/
Contact: 13 13 33 (customer service number)
Address: Level 28, 225 George Street Sydney, New South Wales 2000
About: Aussie Home Loans is a prominent home loan and mortgage brokerage firm that caters to more than 320,000 clients. In 1992, John Symond and his nephew James Symond founded the company, which differentiated itself from banks by offering 24-hour service and lower interest rates.
The business was founded on family principles and still operates as a family-style enterprise today, now as a part of the Lendi Group. Aussie has the most extensive retail network in Australia. They have over a thousand brokers, and more than two hundred stores in Australia. Their mortgage specialists are an integral part of their local communities as well.
USP: With access to a panel of more than 20 leading lenders and 3,000 loans, Aussie Home Loans provide their customers with lucid options and mortgage advice that caters to your home loan needs.
Reviews:
2. Lydian Financial Services
Website: https://lydian.com.au
Contact: 0413 609 349, marketing@lydian.com.au
Address: Level 4, 75 Pitt Street, Sydney NSW 2000
About: The company Lydian Financial Services specializes in providing support services to mortgage brokers to help them excel in their work. The company offers various tools to mortgage brokers, including administration support, customer relationship management (CRM) software, and an online chat community. They focus on partnering with B2B brokers to aid with lending and debt requirements. Lydian has several funding partners who possess extensive experience in financial planning, spanning over two decades.
USP: Through Lydian Financial Services, mortgage brokers have access to a comprehensive platform and support structure to build a thriving business. They provide numerous services and features that give mortgage brokers all the necessary elements to flourish.
Review:
3. Mortgage Choice
Website: https://www.mortgagechoice.com.au
Contact: 13 77 62
Address: Level 17/309 Kent St, Sydney NSW 2000
About: Mortgage Choice was founded in 1992. The primary objective was to create a network of reliable and professional mortgage brokers for local communities. Even after 30 years, under new ownership by REA Group, the brand is still nationally recognized and trusted. The company is dedicated to assisting individuals in achieving their financial objectives, whether it is purchasing a home, buying a car, or starting a business.
USP: The brokerage company also effectively introduced a structured program for the Best Interests Duty (BID) and created an ongoing detailed learning and development program for it. As a result, they upgraded their Broker Platform with advanced technology.
Review:
4. My Loan Choices
Website: https://myloanchoices.com.au
Contact: info@myloanchoices.com.au, 0430 020 620
Address: 1/919 Doncaster Rd, Doncaster East VIC 3109
About: My Loan Choices is an independent organization that aims to assist Australians in reaching their financial objectives by offering a variety of options from different lenders. This company was founded by Miguel Gonzalez, with significant experience in the finance industry in Australia and Colombia. My Loan Choices adopts a comprehensive approach to addressing the financial needs of clients.
USP: Miguel and his team create educational content on YouTube and Spotify to help people apply for home loans and improve their finances. It proves to be useful for individuals wanting to learn more about personal finances and taking loans.
Reviews:
5. Loan Market Group
Website: https://www.loanmarket.com.au
Contact: 13 56 26, customercare@loanmarket.com.au
Address: Level 26, 135 King Street, Sydney NSW 2000
About: One of the biggest mortgage brokerage firms in Australia, Loan Market enables you to compare banks and more than 30 lending services directly. It is an Australian mortgage brokerage that is family-owned and -led. Sam White established it in 1994, and it now serves a network of more than 650 brokers throughout Australia and New Zealand. 850 brokers trade for them under their brand as well.
USP: Loan Market has access to a panel of over 60 lenders and thousands of loan products. The company helps individuals and businesses secure over $36 billion in loans annually, and it has a 4.7 out of 5 customer satisfaction rating on Product Review.
Review:
6. Atlas Broker
Website: https://atlasbroker.com.au
Contact: 1300 731 131, info@atlasbroker.com.au
Address: Suite 16, 50 New Street Ringwood VIC 3134
About: Atlas Equipment Finance is an Australian equipment finance broker that was established in 2011. They expanded into mortgage and insurance businesses under the brand Plus 61 in 2016. In 2019, they purchased Bridgecoast Finance in Gosford, NSW. They finally consolidated all their brands under Atlas Broker.
USP: Atlas Broker is one of the most underrated mortgage brokers in Australia. Despite their minimalist website and online presence, their team has a wide range of skills and expertise to handle all kinds of deals by identifying clients' needs and providing the best solutions.
Review:
7. Shore Financial
Website: https://shorefinancial.com.au
Contact: 1300 416 700
Address: Level 16, 124 Walker St., North Sydney, 2060
About: Sydney's fastest expanding mortgage agency is Shore Financial. It was established in 2013 and takes great satisfaction in offering top-notch client support and thoughtful home loan guidance. They offer a team of professionals with the skills and experience to locate the ideal mortgage for everyone's needs.
USP: They work diligently to create and evaluate a core business plan. The brokerage firm gives high priority to client happiness and positive feedback, and have a solid technology foundation that includes centralized processing, CRM systems, and a management team to assure effective service delivery.
Review:
8. Boss Money Mortgage Brokers
Website: http://www.bossmoney.com.au
Contact: 0476 111 000, tom@bossmoney.com.au
Address: 130 Vulture Street, South Brisbane QLD 4101
About: Tom Uhlich is an experienced professional in the financial services industry who founded Boss Money in 2016. With over 25 years of experience, he has owned and operated two successful Aussie Mortgage Broking franchises for ten years.

Under Tom's leadership, Boss Money's skilled team deals with multiple lenders daily and has the expertise to identify potential issues when borrowing money. The team has also increased its lender panel to over 40 banks, providing clients with more options for their borrowing needs.
USP: Boss Money has a proven track record, and their director, Tom, consistently wins numerous accolades. In just five years since the company's founding, Tom's staff has resolved more than $635 million in debts and assisted more than 1,333 clients.
Review:
9. Buyer's Choice Mortgage & Finance
Website: https://buyerschoice.com.au/
Contact: 1800 466 050, enquiry@buyerschoice.com.au
Address: Level 5, 278 Collins Street, Melbourne VIC 3000
About: Buyers Choice Aggregation is a boutique aggregator that provides support services to empower brokers to build better businesses. They offer:
Technology
Marketing support
Loan processing assistance
Access to a lender panel
Commission security
Compliance program
Professional development events.
They are committed to personalized support, and they're member of the MFAA and the largest group within the PLAN Australia network.
USP: Buyers Choice Aggregation is unique because it is a boutique aggregator, and the company is committed to remaining boutique to ensure its members benefit from personalized and meaningful support.
Review:
10. Ijarah Finance
Website: https://ijarahfinance.com.au
Contact: 1300 452 724
Address: Suite 5, Level 6 402-410 Chapel Road Bankstown, NSW 2200
About: Ijarah Finance offers a Rent-To-Own concept based on Ijarah Muntahiya Bil Tamleek – A Lease Agreement with an option to own the leased asset at the end of the lease period. Their contract is in line with the National Consumer Credit Protection Act 2009 (NCCP) and ensures the protection of both parties rights.
Ijarah Finance caters to the growing demand for Islamic finance options, especially for the Muslim population in Australia, which constitutes 2.6% of the population. They provide a way for people to own their property, vehicles, or business assets without relying on interest-based contracts.
USP: They stand out from the competition and are renowned for providing great services and goods because no other businesses use an Islamic approach.
Review:
11. Nectar Mortgages
Website: https://www.nectarmortgages.com.au
Contact: 1300 55 17 11, enquiries@nectarmortgages.com.au
Address: PO Box 4211, Robina, Queensland, 4226, Australia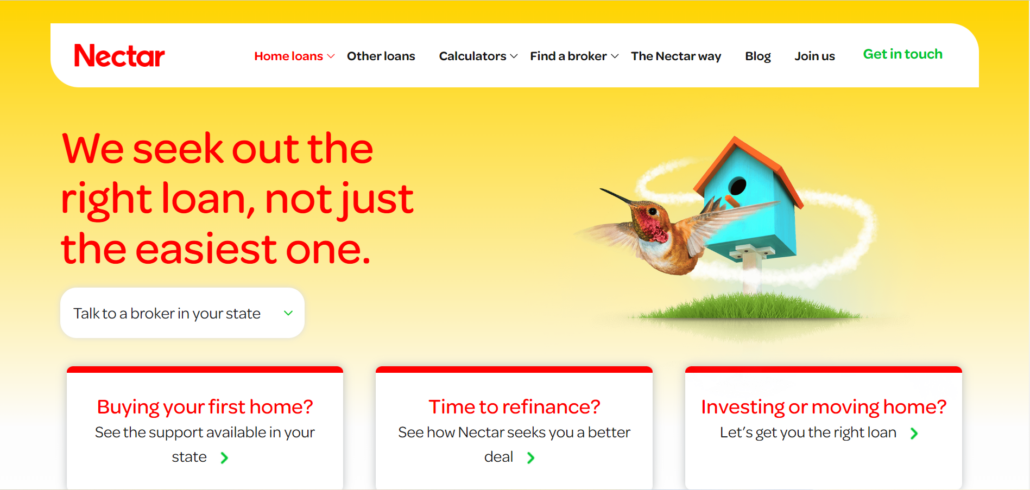 About: Nectar Mortgages allows first-time homeowners to find the loan that is right for them and not the loan that is the easiest to get. Nectar lists multiple schemes available across each state. Customers can get in touch with the brokers to know what the right loan for them would be.
USP: Nectar brokers have partnered with Clear Credit Solutions to help clients with poor credit obtain loans following new laws mandated by ASIC that started from July 2021.
Review:
12. Axton Finance
Website: https://www.axtonfinance.com.au
Contact: +61 3 9939 7576, getabetterrate@axtonfinance.com.au
Address: 114 Auburn Rd, Hawthorn VIC 3122
About: Axton Finance was founded by Clinton Waters, and its services are based on the core values of trust, communication, and excellence. Their team of mortgage and credit professionals assists with various financing solutions, including seasoned property investors, Australian ex-pats, and first-time home buyers.
They provide industry expertise, source great deals through relationships and technologies, have access to over 30 lenders, and offer ongoing support even after the loan has been settled. Axton Finance aims to make the mortgage selection process stress-free for their clients.
USP: The company focuses on providing personalized services and establishing trust-based growth with each client. The team of mortgage and credit advisers are all ASIC-licensed credit representatives and are full members of MFAA and Connective Broker Services Pty Ltd.
Review:
13. Resolve Finance
Website: https://www.resolvefinance.com.au/
Contact: 1300 883 292, info@resolvefinance.com.au
Address: Level 2, 301 Vincent Street, Leederville 6007 WA
About: Resolve Finance is a well-established finance company that originated in Western Australia in 1997 and later expanded into Victoria in 2008. The company has been successful in financing over 36,000 homes since its inception, assisting more than 200 homebuyers in purchasing their dream homes each month.
Resolve Finance was established to provide construction finance expertise to the ABN Group and has become one of the top leaders in the field in Australia. A significant proportion of the loans written by brokerage are construction loans, accounting for one in 20 construction loans in both WA and Victoria.
USP: The company offers a comprehensive financial service that includes not only home loans but also settlements and legal services, financial planning, personal finance, and general insurance.
Review:
14. EXP Financial Group
Website: https://www.expfinancialgroup.com.au
Contact: 0418 800 302, a.lekkas@expfinancialgroup.com.au
Address: Suite 28b/247-255 Drummond Street, Carlton North, VIC 3053
About: Mortgage broker EXP Financial Group specializes in both residential and commercial lending. The business offers consultations to examine the debt arrangements of clients and present appropriate solutions.
All of Australia's main banks and financial institutions have accredited them. The staff at EXP Financial Group has a wealth of knowledge and experience in the banking sector, and they make use of this knowledge to support clients as they apply for loans. To offer its clients better services, the organization works with market industry professionals, including residential and commercial lenders, financial planners, buyer's advocates, lawyers/solicitors, and tax accountants.
USP: EXP Financial Group's offers are often aligned with the requirements of Australians, making them one of the most trusted mortgage brokers in the country.
15. Oxygen Home Loans
Website: https://www.oxygen.com.au
Contact: 1300 855 699, oxygen@oxygen.com.au
Address: Level 3​, 28 O'Connell St​ Sydney​ NSW 2000
About: In addition to providing customers with the most affordable loan and superior advice, Oxygen also makes the procedure simple. They represent their client's interests during negotiations, give them options, and assist them in avoiding potential hazards to save time. The business seeks to find and arrange the most favorable loan for its clients.
USP: The business has received praise for excelling in the mortgage broking sector. They have won numerous honours, including Major Brokerage of the Year 2012, Australian Brokerage of the Year 2011, and MFAA Finance Broker Business – 6+ Loan Writers (NSW) 2017. Additionally, they have frequently appeared in lists such as MPA's Top 10 Independent Brokerages and The Adviser's Top 25 Brokerages.
Review:
In Conclusion
An advantage of working with a mortgage broker is that they may help clients save time and money by comparing rates and terms from several lenders. Another advantage is that they have access to more lenders and products than an individual borrower would, particularly if the borrower has a bad credit score or a complicated financial position. Throughout the loan process, a mortgage broker can also offer professional advice and direction and assist in resolving any issues that may come up.
In Australia, the mortgage broker industry plays a crucial role in the financial services sector by acting as a bridge between borrowers and lenders. I hope this list helped you find a dependable and trustworthy mortgage broker.
LeadSquared is a one-stop solution for mortgage businesses to manage processes and their sales, call center, field sales, and collections teams. Get in touch with our team if you'd like to know more about LeadSquared's capabilities and how it can contribute to your growth.