Until now, we were striving to crack online sales. And in a blink of an eye, several new channels have emerged.
For instance, in 2021, during Black Friday Cyber Monday, 71% of purchases were made on mobile. The same event saw 3X more sales from social media compared to the previous year.
Similarly, D2C, or the Direct To Consumer channel, is on the rise. Last year, over 1/3rd of consumers reported purchasing directly from the manufacturer's website. On the other hand, marketplaces like Amazon account for 56.7% of e-commerce sales in the United States.
This brings us to the crux of the article—multichannel retailing. That is, selling on the platforms where your customers are. In this article, we'll:
What is multichannel retailing?
Multichannel retailing is a business strategy that uses different channels to sell products. It allows customers to purchase your product directly from the platforms they already use. It combines promotional, distribution, and sales channels—solely dictated by customer preferences.
Previously, multichannel retail meant two outlets: brick-and-mortar stores and product catalogs. However, with the advent of the internet and e-commerce, the scope of multichannel sales has expanded to include websites, social media, partners, marketplaces, and the typical brick-and-mortar stores.
You may wonder why you should invest in multichannel retail when your business is doing well.
Well, I'll give you two good reasons.
One, you'd not want to lose your customers to a competitor who is actively engaging with them on several platforms. And two, you'd, of course, want to grow your revenues by leveraging the audience base of any particular platform. Statistics also show:
So, we've talked quite a bit about "several channels" in multichannel retail. But what exactly are these? Let's explore the types of multichannel retailing.
Types of channels in multichannel retail
Since consumers have become multichannel shoppers, it's high time to explore different platforms. It's equally important to understand how these channels work and how you can use them to increase your revenue.
Here are the various types of multichannel retailing.
Social Media
Social media have recently emerged as a business platform.
You'll be surprised to know that more than 50% of revenue across 14 major industries is generated by social sales.
And it makes sense too when you look at the MAUs or Monthly Active Users numbers across these platforms.
The good part is these platforms provide an option to either sell on the platform itself or redirect the user to your e-commerce website.
Your Website/App or D2C (Direct to Consumer)
When you sell directly to consumers without involving any third-party website or broker, it is called D2C or direct-to-consumer sales.
Manufacturers usually do it through their website and mobile app.
D2C is a great option as you'll have more control over your brand. However, it requires you to find a solution to logistics and build a considerable customer base.
Nonetheless, D2C e-commerce is growing fast. It accounted for $129.31 billion in sales in 2021. The number is only going to increase as shoppers also prefer buying directly from manufacturers for better pricing, fast delivery, and easy returns.
Search Engines
While search engines may not help sell directly, they are of great help in your multichannel marketing.
People compare products, look for reviews, and try to find other relevant info through search engines.
By listing your products and business on search engines, you can ensure that people can find your product much more easily. It also allows them to purchase using the channel they are comfortable with.
Let me give you an example to explain how it works.
When you search for ZOA energy drinks on Google, you'll find an option on the right-hand side to select the variant and store to buy it from. It is due to their listing on the search engine.
Online Marketplaces
Online stores such as Amazon, eBay, Etsy, and Walmart already have the extensive infrastructure to make online buying and selling effortless. While it comes with a considerable markup price, it also allows brands to highlight, promote and sell their products with minimal hassles.
Also, most online shoppers are familiar with the purchasing flow of these marketplaces.
The following chart gives you an idea of sales categories in the State's top online marketplaces.
Brick & Mortar store
Finally, you have the classic brick-and-mortar stores.
While people may shop less from offline stores these days, they still serve a purpose. Such stores are great for people who prefer face-to-face interactions and prefer to get an idea of what the product feels like before making the purchase.
These stores are great for smartphones or cameras where people can try the product and evaluate different models before buying. They are also great for selling bicycles, clothing, perfumes, and other products that customers can try out.
However, some people go to stores to test the product and search for the best deals online. That's why it makes it even more important to be present on the various sales channels.
But the question is—is it so easy?
Let's discuss the advantages and disadvantages of multichannel retailing.
What are the advantages and disadvantages of multichannel retailing?
Advantages of multichannel retailing
Retailers listed in multiple marketplaces generate 190% more revenue than retailers with just one channel.
73% of retailers who invested in multichannel marketing say it is important to them.
This is just the beginning.
Let's look at some more advantages of multichannel retailing.
Unify customers from various sources
You may be getting sales from your brick-and-mortar store and your Instagram page, but you are potentially missing out on a lot of people. These include people who frequently buy from marketplaces.
The point is that when you list your products on multiple channels, you open your business to a larger customer base.
From customers' perspectives, they get the freedom to buy your product from the platform of their choice.
Get an edge over the competition
By selling on platforms where your competition is not selling, you can get an edge over the competition. Alternatively, you can directly compete with a brand on the platform by providing better deals.
Gain greater exposure
Multichannel sales increase your touchpoints. Customers can read reviews on one website and purchase from another one. Furthermore, your brand gets exposure when its products are listed on multiple websites. Your product may show up in Google's shopping suggestions or on Amazon's search results.
Handle risks intelligently
By selling across multiple platforms, you can handle changes in the e-commerce dynamics. It reduces the risk of a business failing or suffering extensive losses when an e-commerce platform goes down or the customer shopping behavior changes.
Focus on the target audience
With a multi-channel sales model, you can easily focus on the consumers who matter the most to you. You may find that your Instagram page and your brand website are helping massively in your outreach efforts while you are selling more on Amazon. Thus, by tracking your sales KPIs and focusing on the marketing efforts, you can easily prioritize channels.
Challenges/disadvantages of multichannel retail
The top 3 challenges that multichannel retailers often face include the platform cost, time, and resources. Apart from these, there are some more regular hassles, like:
Maintaining branding across multiple channels
People expect a different experience on different platforms. Therefore, promoting your product on Instagram will be different from promoting it on Amazon.
Because of the unique demands of the seller platforms, the cost and the marketing collateral often vary. In a way, maintaining a consistent brand voice becomes extremely difficult in multichannel retail.
Supply and logistics
Ensuring a consistent CX across different channels is also a huge challenge.
For instance, you can provide the ideal experience on your website. However, you'll have to follow the platform regulations for selling on marketplaces. It makes managing shipping, return, and refunds experiences or maintaining inventory a challenge.
Customer support experience
Customers do not like moving across platforms. You must provide them with support on the platform they are on.
Handling every single customer on multiple platforms can be a nightmare—especially when you're going through an outage or downtime. But the hard truth is that without proper support and communication, you may end up getting negative feedback and poor ratings.
Sure, there are complexities in multichannel retailing. But with the right tools and proper understanding of each channel, navigating multichannel sales is possible. The following section helps you build your multichannel sales strategy in just 8 easy steps.
A simple 8-step multichannel retail sales strategy
To get the best out of multichannel sales, you will need a concrete strategy in place.
Here is how you can do that in 8 simple steps.
1. Determine the channels you wish to target
Unless you're a large enterprise, you'll have limited time and resources to target each channel.
So, what should you do now?
Here's the answer.
Prioritize the channels based on your customer profile and competitor analysis. Creating a customer profile will help you understand the shopping channels they prefer. Analyzing competitors will help you know if any particular channel is worth selling or not.
After this, prepare a list of channels where you see the opportunity to sell. Understand how they work.
2. Create your customer profile
One shoe fits all strategy seldom works in multichannel retailing.
Create a customer profile for each channel.
For instance, when selling on Instagram or Snapchat, your target audience should be people in their twenties and thirties. On Facebook, it should be people in their thirties to fifties.
Defining attributes such as age, location, job, education levels, and personal attributes allows you to segment customers and cater to them accordingly.
3. Set up goals and KPIs
After you have determined sales channels and built your customer profile, set up realistic sales goals.
Define the sales KPIs you wish to track that bring you closer to those goals.
Your goals could be to capture a market share, drive X% revenue from Y channel, etc. Also, align it with your multichannel marketing goals so that business and communication teams are on the same page.
4. Build a team. Communicate the objective and the timeframe
As we've seen, different teams will work across different channels.
Depending on the number of channels you wish to target, determine the resources you'll need for different functions. For example, the social media manager can help you with customer support if the number of tickets is less. Otherwise, you'll have to employ resources for managing your social pages and customer tickets.
Next, the sales strategy will vary according to the platform. Therefore, everyone in your brand's sales and marketing departments should understand what they are trying to achieve and by when.
Make sure your team members are aware of their targets. At the same time, you should be able to track the progress on those targets.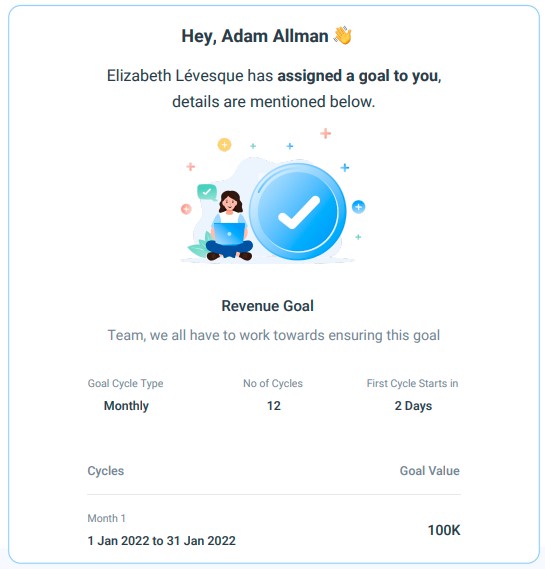 5. Tune your message and create channel-specific assets
Personalize conversations.
Your audience should be able to relate to your message.
Then you can tune it across each marketing channel. For instance, photos and short videos work well on Instagram. On the other hand, a more conversational message would work on Facebook Messenger.
Here are examples of marketing collaterals that you should use in your multichannel sales strategy.
Website: Email marketing, landing pages, newsletters, whitepapers, case studies and eBooks.
Social Media: Product photos and videos, positive reviews and testimonials, influencer content.
Google ads: Ad copy for search ads, photos and videos for display ads.
Television and Streaming: Video advertisements.
Podcasts and Radio: Scripts and recordings, audio ads.
Print: Brochures and flyers, magazine ads, newspaper ads.
Tune each of these assets according to the demographic present on these platforms.
So, is this it?
No!
Before giving the green signal to a new campaign, review it critically.
Scan for issues such as typos, communicating a wrong message, or if it may be misinterpreted. In rare instances, although unintended, the messaging may offend certain demographics. Therefore, take steps to ensure your brand integrity.
6. Automate as much as possible
Set up automation to engage with customers across multiple channels, capture leads and get customer data. You can use marketing automation tools and CRMs to aid your multichannel retail.
For example, LeadSquared Sales CRM allows you to capture leads from several channels like Google Ads, Facebook Ads, websites, chatbots, inbound inquiries, etc. Thus, helping with new customer acquisition and lead management.
Another aspect to look at is that you may sell on marketplaces or third-party websites. So, you'll need a tool to manage sales commissions for the affiliate partner. Again, a lead management CRM like LeadSquared is of great help here. It tracks the lead source so that you know the actual source of your customers.
If you want to see how it works, you can book a 20-minute demo.
7. Track results
Keep a tab on your sales per channel.
If any particular channel is not working for you, either improve it by bringing in experts or find alternative retail channels.
The sunk-cost fallacy creeps into a lot of business decisions. Try to detach emotions. Take rational decisions while letting go of channels.
Another point to consider is to measure incremental sales.
A strategy to promote a particular product may promote your brand and increase sales of other products on a certain channel. Even though it was not your original goal, it still has a positive impact on your business.
8. Prioritize channels but unify experiences.
Strategies take time to work.
Sometimes, you will find that your strategy favors one channel over the others. Depending on the outcome, rework your strategy.
However, since customers may switch channels, aim at providing a consistent brand experience.
Here's an example.
Starbucks customers earn points by shopping at brick-and-mortar stores. They can use these points online for free refills. Similarly, Sephora provides an omnichannel experience, allowing the user to enjoy all personalized benefits across all the channels.
The same applies across all sales functions, such as customer support, returns, and more.
So, now you know the multichannel strategy.
All that is left is execution.
You'll find a lot of moving parts in multichannel retailing. To make the most of your sales channels, use tools to manage leads and customers. Let's look at how it helps.
The role of CRM in multichannel retailing
CRM tools (especially B2C CRM) are a great aid in a multichannel retail business.
They help you:
Capture leads from several sources like ads, websites, chats, marketplaces, etc.
Track and manage affiliate programs
Sales CRM tools help you manage sales, track target vs. achievement, and more.
Automate communications with buyers through autoresponders. Integrate with all popular messaging channels like SMS, WhatsApp, email, Facebook Messenger, etc., to interact with customers through the medium they prefer.
Spot upselling and cross-selling signals. If your customer is browsing your products, the CRM can spot that activity. By taking cues from their intent, you can send them a personalized message to buy the product. It helps you increase the CLV (Customer Lifetime Value).
If implemented strategically, CRM can multiply your multichannel revenue.
For example, DotPe, a leading e-commerce and payments platform, tried a multichannel approach to scale lead acquisition.
The result?
The multi-channel approach enabled them to exponentially increase their leads per week from 500 to 15,000, a whopping 30X increase!
They use LeadSquared CRM to capture leads from all the channels they've set up.
Not only this, but they also actively worked upon lead engagement. Back when they used excel sheets to track their progress, the conversion rate was 4.6% which doubled to 8-10% after shifting their operations to LeadSquared.
In the words of Aniket Deb, Head of Inside Sales, DotPe:
"LeadSquared has completely freed up my bandwidth for more productive tasks. I can now do deep work, plan for the future, build more products, and set the right processes in place without worrying about what's happening in the background. LeadSquared tracks and updates me on all my team members and leads, and we can focus on scaling up and bringing new updates to DotPe."
Do you want to achieve such results too?