As admissions counsellors, your priority is to assist prospective students in the best way possible. In reality, you have about a hundred other 'priority tasks' to look at.
The result?
Delays in responding to student inquires.
In contrast, instant response can boost your admission rates. Because:
Through Education Workflow Automation, you can easily reduce student response times and improve student experience.
Generally, higher education institutions deploy the following set of automation in their admissions process:
Pre-application automation
Update the application progress
Post-application automation
Promotional and payment status automation
Below are examples of education workflow automation that can help you improve your admissions process as well as student experience. You can easily create these drag-and-drop, no code sequences on a workflow automation tool, such as LeadSquared's Higher Education CRM.
Pre-application automations
It is necessary for an institution to set up pre-application automation to:
Control the number of student drop-off rates
Enable prospects to move from one step of the funnel to another
Provide a better onboarding experience from the time of inquiry itself
Below are examples of workflow automation sequences you can set up for your higher education institution.
1. Automated response to student inquiries
This is the first interaction a student has with your institution. It could either be a direct inquiry, or your team could have reached out to the prospective student.

In the case when a student reaches out to you first, you can send an automated Welcome Email asking them for an appropriate time to call or set up a virtual tour.

At the same time, you could trigger the automation to distribute the inquiry based on the courses they're interested in or the source or channel the lead has come from.

The real-time distribution and email first touch increase your chances of getting the student on call by 10 times.
We helped Unitek Learning minimize manual interventions for sending out communication to new inquiries –
By putting LeadSquared to work, we have been able to automate texts and emails at a highly granular level. It's been effective because of the powerful and flexible ability to create "if/then" scenarios that trigger timely communications based on the stage the prospective student is in.

Michael Collins, Vice President of Admissions, Unitek Learning
[Read more: Unitek Learning Accelerates its Response Times and Increases Conversions with LeadSquared]
2. Auto-assign students to the right counsellors
Like I mentioned earlier, the moment you get an enquiry, you can automatically assign it to the appropriate counsellor in real-time.
For example, you have a team of counsellors handling inbound inquiries while the other team handles cold inquiries.
You can distribute the leads through automation based on the source it came from.
This automation will help you track the progress on leads and manage follow-ups to improve inquiry-to-conversion ratio.
3. Connect with students on call to nurture them further
As soon as the counsellor is assigned to a new inquiry or is trying to re-engage an existing prospect, you can start mapping their journey to the next step.
In this automation, we discuss how you can map conversations and statuses using call disposition.
For example, you're assigned a new lead and all you have is their phone number. You can contact them to explain the next steps in their admission process. It could be to set up a virtual campus tour, a meeting with the HOD, or create their application login.
4. Follow-up after a campus tour is completed
Once a student attends a campus tour, you can follow-up with them to find out if they are interested in applying for the course. Plus, you can always nurture students who are unresponsive after the tour.
5. Capture and nurture students from high school education fairs
You might visit multiple high schools to conduct events or educate them on the facilities and quality of education available in your institute. You can capture student leads & nurture them using emails or text messages.
6. Manage your applications from international students
Every higher education institution wants a healthy cultural diversity on the campus. Attract the best international students, and engage them till they finally enroll with automation.
Keep track of how student applications progress
Through automation, your counsellors, admission heads, team leads—all can check the progress on the student's enrollment journey.
You can get insights like:
Average response times after a counsellor is assigned
Based on our experience working with several higher education institutions, inquiry drop-off rates (average conversion rates from inquiry to application is between 2%-3%)
Counsellor efficiency
Number of calls connected
Email engagement rates
7. Collect and verify student details
Once the counsellor gets in touch with the student, they can collect the necessary information like course interests, address, high school GPA, etc.
This step will be important to personalize the application as well as suggest them the right courses based on eligibility.
This will also help in sharing the appropriate entrance test links based on the course they're eligible for.
8. Set up reminders for your admission officers
With the number of leads pouring in, admission officers can sometimes miss out on tasks and follow-ups. You can set up constant reminders to remind them to follow up. If they don't follow up after constant reminders, you can escalate the issue to the admissions manager as well.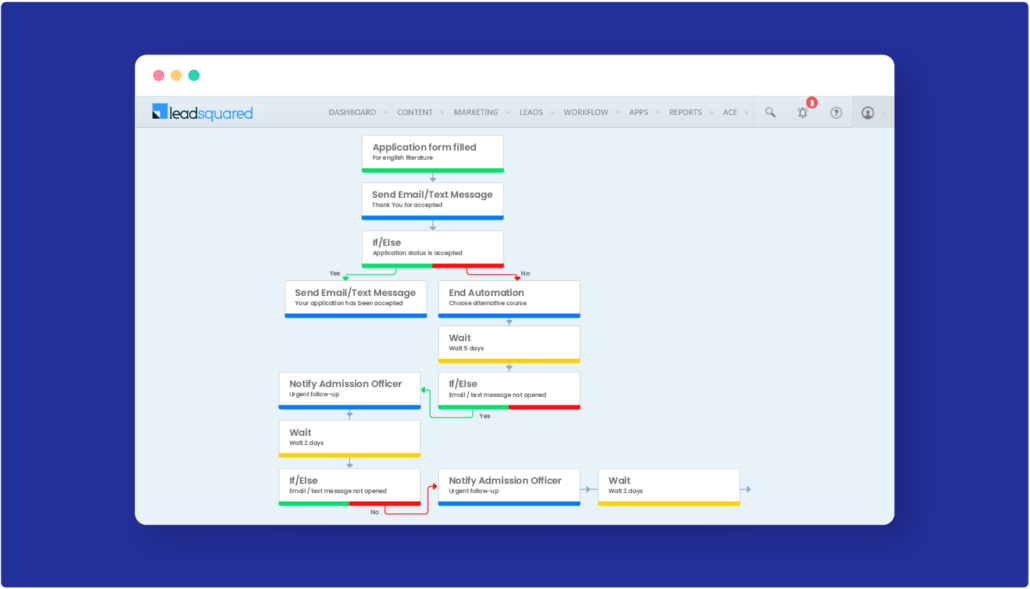 9. Update the opportunity as an interested student
The counsellor has updated the necessary pre-qualification details and was successful in setting up a virtual campus tour or created the student login. You can automatically update the student status as "interested" to keep track on how their application is progressing.
At this step, you can also assign the lead to another team based on the structure and process that is maintained for your institution.

With LeadSquared, customization at every step is possible. Our out-of-the-box solution, helps you build automation custom to your process. Take a live demo to see it in action.
10. Share entrance test links and updates on test results
Once the application has been filled and reviewed, the next step in the application process is to share a test link. LeadSquared can be integrated with multiple test platforms. For example, Mettl.
Through automation, you can share the links, update them on scores, share their results as soon as these statuses are updated.
You can choose to share these via multiple channels–email, SMS, student's personal portal, and more.
11. Schedule interviews with the university heads
The prospect has cleared their entrance test and has moved to the next step – personal interview.
Through automation, you can send out personalized zoom/google meet links based on the availability of the student as well as department heads.
The counsellor can track no-shows, reschedules, and interview status for the prospect for the automation to send out updated information.
For example, if a student is a no-show, the counsellor gets notified to set up a new time for the interview. As soon as the time is updated for the student, a new meeting link is sent to them automatically.
12. Send out application status updates post interview evaluation
Post the interview, the last step in the selection process is to share regular status updates on their selection, review, or rejection.
This automation enables the student and counsellor to remain up to date on whether the student has been selected or requires further review.
Both will have real-time visibility via email and on the portal.
Post-application automation
13. Generate offer and acceptance letters
Post the application and selection phase, the student would require a formal offer letter to be sent and signed.
Once the application and interview has been reviewed and the student is qualified for enrolment, you can automatically send out the offer letter via email and update the student portal.
You can templatize the offer letter with details like name of the student, their correspondence address, the course they've applied for, course credits that will be awarded, etc.
14. Set follow-up tasks for offer letter review and update acceptance stages
After the student has signed the offer letter, the counsellor can share the fee payment details as well as start conversation on scholarship and financing options.
If the same counsellor also handles post-application steps, automatic tasks can be created for the same.
In case, you have a different team handling the post-application, the student can be assigned to the new team and tasks can be created for that member.
Promotional and Payment status automations
This set of automation helps you track the status of conversions faster. The conversions could either be students that have qualified for enrolment and have not yet paid their fees or to promote more applications by offering a discount on application fees, etc.
15. Marketing promotional activities
LeadSquared for Education also helps you create discount coupons and promotional offers that can be shared via email, SMS, or WhatsApp.
Automation for updating the status of students that have applied the discount coupons or engaged with your promotional emails can be built.
16. Update payment status
Once a payment link has been generated for the student in order to pay either the application fees or the semester fees – the counsellor as well as the finance team can stay updated on the status through automation.
The automation can be set around creating follow-up reminders for the counsellor and student, notifying the finance team on successful payment, or notifying the counsellor or student when the payment has failed.
These real-time updates help to track the incoming payments as well as faster resolution in case the student is facing any issues with payment.
Wrapping up
Running these automations doesn't require much of a technical experience – provided you have an end-to-end Admissions CRM like LeadSquared assisting you. All your applications whether it is a third-party publisher panel or promotional channels like Whatsapp for Business or SMS–we can add these integrations to drive automations from the platform.
While the benefits of workflow automation are multifold, they've helped education institutes achieve the following:
50% better inquiry-to-conversion ratios
5X faster student response times
120% increase in counsellor efficiency
3X more enrolments
Book your free consultation with our experts today.